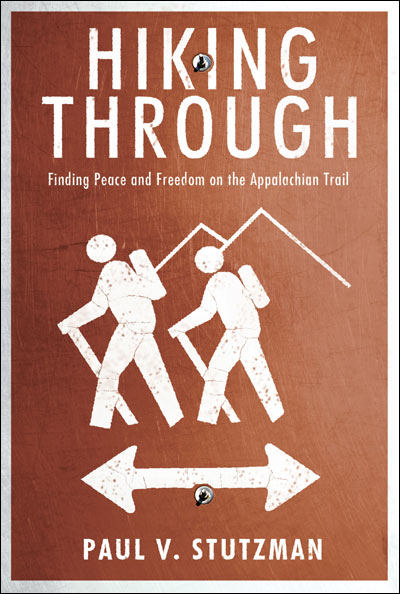 Hiking Through: Finding Peace and Freedom on the Appalachian Trail by Paul V. Stutzman
Hiking through is true a story of Paul V. Stutzman's

journey

hiking the entire length of the Appalachian Trail (AT). Paul was a successful Restaurant manager that found himself in difficult times with the loss of his wife to cancer.

With the loss of his wife it seemed like a good time to fulfill his lifelong dream of hiking the AT, also taking a hike with the feeling that God wanted to meet him along the journey.
As much as I love hiking, I have never done anything more than 10 km's let alone 3500 km's.

I have not read any other books on a similar type journey, so I have nothing to compare it to. That being said, I enjoyed the journey that Paul takes you on. This book has opened my

eyes to a whole other culture and community of hikers out there that I never knew existed. As you read through you can feel yourself being drawn into this culture and understanding why they do what they do.

Paul does a wonderful job describing the scenes and personalities that he meets along the way.
Hiking Through has it all: humour, adventure, excitement and grief; all weaved brilliantly into a true story. Paul does a wonderful job giving you a glimpse into his inner struggles, feelings and thoughts on his journey and life in general along the way.

He does a wonderful job comparing his hike to his past life and the paradox that it creates.
This book is not simply about hiking. This book is about relationships, hardships, victories, determination and finding God through it all.

Paul finds himself meeting different people on the journey, he goes through many difficulties, he climbs mountains and walks valleys; there are times he wants to give up and times where he needs help to make it through. The whole journey that Paul takes could represent everyone's journey in life with its ups and downs and relationships, that's what makes it appealing to readers that are not necessarily hikers.
Disclosure of Material Connection: I received this book free from the publisher through Baker Publishing Group : "Guides Concerning the Use of Endorsements and Testimonials in Advertising."